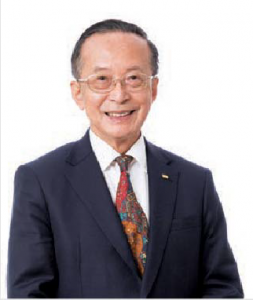 Guided by our commitment – we conduct business in an environmentally and socially responsible manner, and we advocate with our stakeholders to collectively support the transition to a smart, low-carbon society.
Dr. Poon Lok To Otto
Chairman
Corporate Sustainability Strategy
Sustainability is all-important to us and has been throughout our history as a company. Our Corporate Sustainability Strategy serves as a holistic framework that helps us align the Group's operations with core values of sustainability for economic growth, environmental protection and quality of life. It guides the Group in our operation and decision making, and is built on four key pillars – Decarbonising Our Operations; Driving Smart City Development; Co-creating A Sustainable Value Chain; and Advancing Our People.
DECARBONISING OUR OPERATIONS
Minimise the environmental impact of our operations through decarbonisation and responsible consumption of resources.
Low-Carbon Operations

To reduce our carbon footprint through operations that support the transition to a low-carbon future.

Resource Optimisation

To ensure effective use of resources to reduce the environmental impact of our operations, and to enhance operational efficiency and productivity.

Climate Risk Management

To identify and respond to climate-related risks across our operations and enhance our adaptability and resilience to climate change.
DRIVING SMART CITY DEVELOPMENT
Improve the quality of life and make cities smarter and greener.
Smart and Healthy Living

To promote smart, healthy and livable cities using innovative applications to connect and improve people's living environment.

Climate Solutions

To optimise buildings and infrastructure to achieve energy conservation and carbon reduction.

Clean Water and Sanitation

To apply advanced technology for potable water and wastewater treatment to enhance water quality and resilience.
CO-CREATING A SUSTAINABLE VALUE CHAIN
Attain customer satisfaction by embedding sustainability principles along the value chain, leveraging engineering excellence, professionalism, and quality services in close collaboration with key stakeholders.
Customers

To deliver quality, reliable and excellent products and services, while protecting the rights and interests of our customers.

Subcontractors and Suppliers

To manage and develop collaborative working relationships with our subcontractors and our wider supply chain partners to ensure project quality, manage supply chain risks and improve project efficiency.

Community

To make a difference to the long-term development of communities through corporate social responsibility programmes and philanthropy.
ADVANCING OUR PEOPLE
Advance organisational capacity by creating an inclusive, people-centric workplace, promoting health and well-being, and fostering a culture of continuous learning and innovation.
People-Centric Workplace

To foster a people-centric culture and develop a healthy, supportive, and productive workplace where our employees can take pride in their work.

Nurturing Our People

To cultivate a culture of continuous learning and professionalism among our people at all levels to support their careers and personal development. We aim to nurture a pipeline of engineering professionals and leaders that can adapt to and succeed in a rapidly changing environment.

Health and Safety

To safeguard the health and safety of employees and all interested parties and provide a safe and healthy workplace.
Our Environmental, Social and Governance Reports