Analogue
Issue 46, May 2022
New Environmental Engineering Contracts Underline ATAL's Green Commitments

環境工程業務新簽訂兩項工程合約 突顯安樂工程之綠色承諾
With our extensive expertise, ATAL has long served as a one-stop service provider for environmental engineering. From waterworks, sewage, solid waste and gas treatment to green energy, our services reflect our deep commitment to sustainability.
As such, we are pleased to announce that the Group's Environmental Engineering segment has recently won two new contracts that will support Hong Kong's sustainable growth. With a combined value exceeding HK$43.5 million, the two contracts underscore our expertise and ability to deliver quality water treatment and waste management services for the rapidly expanding population.
Enhancement of Salt Water Piping Systems at Cha Kwo Ling and Tai Wan Salt Water Pumping Stations
The first project, awarded by the Water Supplies Department (WSD), involves the enhancement of salt water piping systems at Cha Kwo Ling and Tai Wan Salt Water Pumping Stations. Valued at HK$24.6 million, the two-year project commenced in March this year and is slated for completion by 2024. As always, we are confident that our replacement and improvement of the salt water valves and pipework at Cha Kwo Ling and Tai Wan Salt Water Pumping Stations will deliver on our promise of top-notch quality and performance.
Term Contract for the Supply, Installation and Maintenance of Refuse Handling Systems for New Housing Authority Buildings
The second project encompasses the supply, installation and maintenance of refuse-handling systems for new Hong Kong Housing Authority (HKHA) buildings. The HK$18.9 million term contract with HKHA is expected to be fully operational in 2024.
The contract follows two successful projects that demonstrate our significant knowhow and experience in sustainable waste-management solutions. Developed by ATAL and its joint venture partner under a design-build-operate contract, O · PARK1, the first organic resources recovery centre in Hong Kong, leverages advanced anaerobic digestion and composting technologies to convert food waste into biogas for power generation and compost products, reducing the amount of food waste that ends up in landfills. ATAL also brought its expertise to bear in the extension of the South East New Territories (SENT) Landfill, applying smart modelling solutions and intelligent software for plant and process design to devise a more cost-effective, efficient and sustainable leachate treatment plant. From household waste collection and leachate management in landfills to producing renewable energy from food waste, ATAL's trusted and comprehensive solutions have been an advantage to the city's sustainable development.
The Group's commitment to sustainability is showcased in our Corporate Sustainability Strategy Framework and Green Finance Framework. Among the pillars of our Corporate Sustainability Strategy Framework are the decarbonisation of our operations and the advancement of smart city development. Notably, ATAL was the first E&M engineering group in Hong Kong to obtain a Sustainable Finance Certificate from the Construction Industry Council (CIC) and a Green Loan Pre-Issuance Stage Certificate from the Hong Kong Quality Assurance Agency (HKQAA). The Group has obtained its first green loan instrument of HK$300 million, with proceeds earmarked for enhancing water and wastewater management, further strengthening our capacity to handle environment-related projects in the future.
Our contracts with WSD and HKHA are another step forward in our ongoing mission to facilitate Hong Kong's green development.
Ir Raymond Chan, Managing Director of ATAL Engineering Group, remarked, "We will continue to integrate our Group's sustainability approach into our operations and business strategy , and to leverage our expertise to fund innovative projects that positively impact society and the environment."
The Group's Environmental Engineering segment has been awarded a contract on Enhancement of Salt Water Piping Systems at Cha Kwo Ling and Tai Wan Salt Water Pumping Stations by Water Supplies Department (WSD)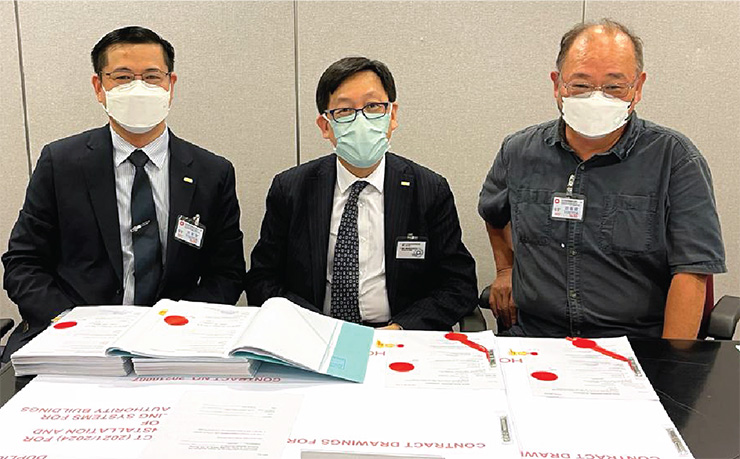 Another contract awarded was the Term Contract for the Supply, Installation and Maintenance of Refuse Handling Systems for New Housing Authority Buildings (Package A) by Hong Kong Housing Authority (HKHA)