Analogue
Issue 50, Aug 2022
ATAL Engineering Group Supports Hong Kong Technology and Innovation Development

安樂工程集團支持香港科技創新發展
The Hong Kong Alliance of Technology and Innovation (the Alliance) was officially established on 15 July 2022 at a ceremony officiated by the Chief Executive Mr John Lee. The Alliance was founded by a group of distinguished individuals and enthusiasts from the academia, industry and research sectors in Hong Kong.
Chaired by Professor Dennis Lo Yuk-ming of the Chinese University of Hong Kong, the Alliance aims to provide a platform to promote and facilitate exchange and cooperation in technology and innovation and contribute to Hong Kong's technology and innovation development. Ir Dr Otto Poon, Chairman of ATAL Engineering Group and President of the Hong Kong Academy of Engineering Sciences, is one of the advisers of the Alliance.
"Technology and innovation are vital to the future of Hong Kong in economic growth, smart city transformation and our economic integration with the Mainland," said Ir Dr Poon. "Innovation is also one of ATAL's core competencies, while technology plays a key role in our Group's strategy of 'New Technology, New Market, New Business Model' as we pursue future growth."
Mr John Lee remarked at the ceremony that President Xi Jinpin, during his 1 July visit to Hong Kong, had reiterated the Central Government's support and expectations for the development of Hong Kong as an international hub of technology and innovation. Mr Lee noted that he would lead Hong Kong to advance its technology and innovation, foster the city's integration with technology industries in other cities of the Guangdong-Hong Kong-Macao Greater Bay Area, expedite smart city development, and transform Hong Kong into a thriving international hub of technology and innovation.
The Alliance has also jointly established the BOCHK Science and Technology Innovation Prize to recognise research professionals with outstanding achievements.
"I am honoured to be appointed an adviser for the Alliance and shall spare no effort in paving the way for Hong Kong's success in research, technology applications and innovation breakthroughs," said Ir Dr Poon.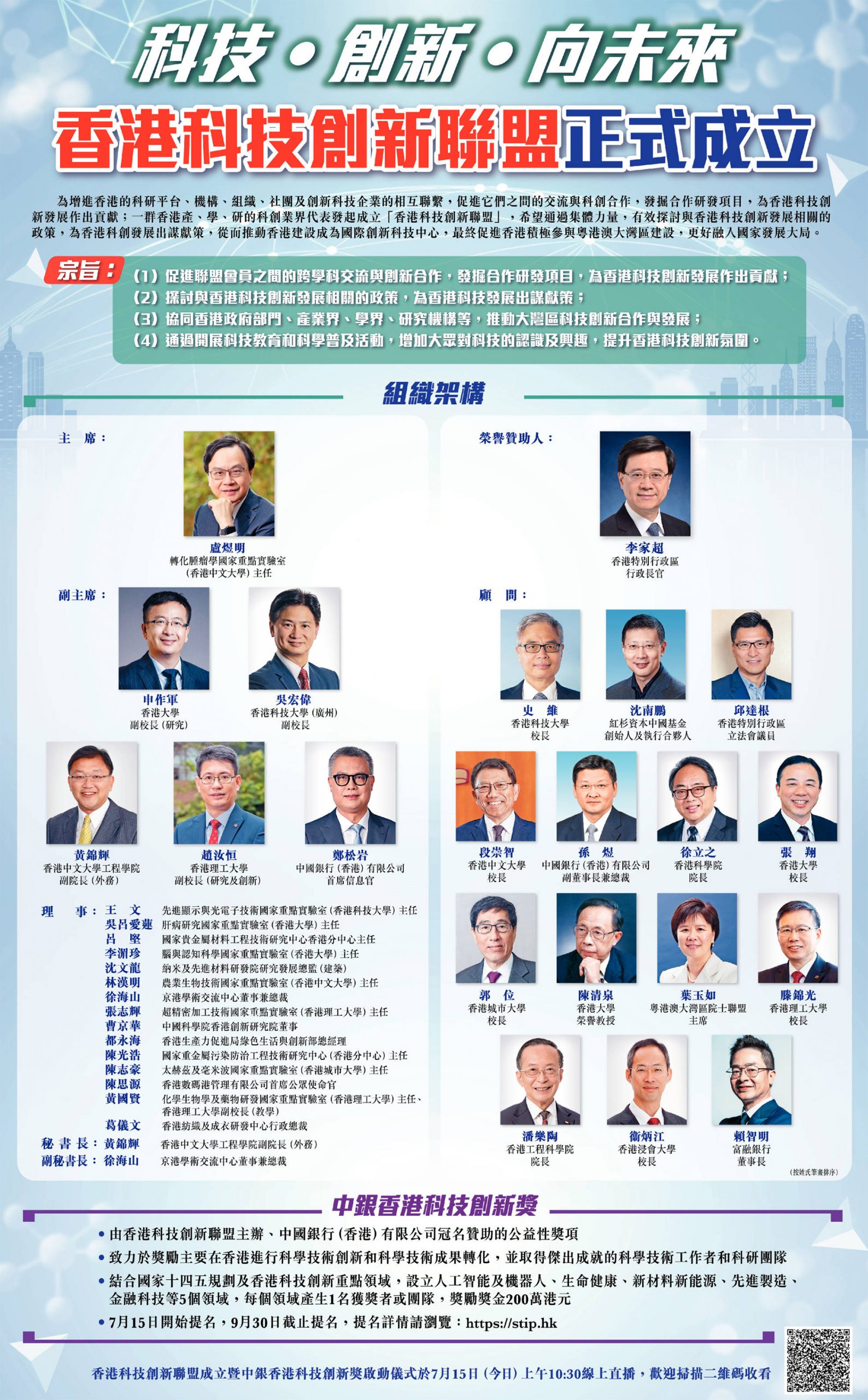 Ir Dr Otto Poon is one of the advisers of the newly established Hong Kong Alliance of Technology and Innovation, in support of the development of science and technology innovation in Hong Kong