Analogue
Issue 10, Jan 2021
Grow through Training and Development
以人為本,成就未來
ATAL's long-standing effort has earned itself a leading position in the electrical and mechanical engineering industry. Attributes often identified as drivers of our progress for over 40 years are technological excellence and professionalism, but our continuous effort in training and development is a truly indispensable factor.
Our Group Chairman Dr Otto Poon is a firm believer in the value of lifelong learning, along with the thinking that the secret to a company's success lies in the growth mindset of its people.
ATAL was a pioneer in creating graduate trainee and apprenticeship programmes as a strategic means of staying competitive in a fast-changing market. And over the years, more than 1,000 young engineering professionals have graduated from the programmes and are now making significant contributions to our industry.
In April 2020, the Group established the Corporate Training and Development Unit, as part of an enhancement of our staff development programmes and to better meet the needs of an increasingly diverse workforce. A good example was the establishment of the Young Engineers Scheme (YES), a one-year extension programme tailored to suit staff who have completed the HKIE 2-to-3-year Graduate Training Scheme A.
While YES was designed to supplement soft skills by focusing on communication and supervisory skills, the Leaders Executives Accelerating Programme (LEAP) is created for staff with over ten years of experience who want to improve their leadership and team management skills. As a result, training programmes now available to staff members of varying seniority are able to develop the essential management skills, mindsets and business acumen required to move them up the career ladder.
Training sessions are also provided to keep staff up to speed with the latest industry knowledge in terms of technological advances, occupational safety, regulatory compliance, sustainability and all the other topics that impact on their jobs and well-being. In fact, our employees were benefitted from more than 30,000 hours of training in 2020.
We also provide staff with allowances and subsidies every year to encourage the lifelong learning philosophy advocated by our Group Chairman – all in the interests of personal fulfilment and career satisfaction, as well as the Group's sustainable growth.
Dr Poon said: "Our people are the most valuable asset of this company, which is why we invest so much time, effort and resources into nurturing colleagues prepared to step outside their comfort zones and commit to continuous improvement. We believe this healthy approach is highly beneficial to our employees, the Group and our stakeholders."
Group Chairman Dr Poon (centre) firmly believes training and development are absolutely essential to the Group's sustainable growth
ATAL Apprentices Achieve Outstanding Youth Development Awards
安樂工程學徒屢獲業界嘉許
Nurturing talent is at the heart of ATAL's training and development culture. Equipping employees with the right skills and mindsets, we utilise industry competitions and award schemes to motivate young engineers along the path to career success.
The Group nominated technician trainee Sam Wong for the Outstanding Apprentice Award Scheme, hosted by the Vocational Training Council (VTC). After rounds of evaluation, he outperformed more than 200 participating apprentices to become one of the 13 winners in 2020. The scheme's objective is to recognise and reward outstanding achievement and hard work among apprentices. As one of the awardees, he will be sent overseas this Autumn to broaden their perspectives on vocational education and training. Previously, Sam also won the first runner-up of the WorldSkills Hong Kong Competition 2018 in Refrigeration and Air Conditioning Trade.
When asked about his feeling on winning, Sam thanked his mentors and recalled how he joined the Group in 2017 after completing a Building Services Supervisor Certificate Course run by the Construction Industry Council. Sam began his apprenticeship in ATAL's Mechanical Ventilation & Air-conditioning (MVAC) maintenance team – which is responsible for air-conditioning projects – and considers himself fortunate to have chosen ATAL as a career launchpad. He said: "ATAL provides a comprehensive apprenticeship programme involving extensive hands-on training and many job-rotation opportunities, which accelerated my fast-track progress."
Sam will soon complete his four-year ATAL apprenticeship and looks forward to gaining the Certificate of Vocational Education (Air-conditioning & Refrigeration). He will then benefit from on-the-job training, while pursuing further engineering studies. With ATAL's systematic training and development programmes, Sam believes that he is in the right direction to develop a fruitful career as an engineer.
Another technician trainee, Leo Cheung in the MVAC department, was presented with Merit Awards, as part of the Youth Employment and Training Programme (YETP) Most Improved Trainees (MITs) 2020 scheme. This accolade rewarded the tremendous improvement Leo has made since embarking on his YETP adventure.
Group Chairman Dr Otto Poon said: "I am delighted to see young talent from ATAL being applauded by various external organisations. And I now look forward to seeing more young talents taking advantage of our training programmes – to the benefit of their careers and the Group's sustainability."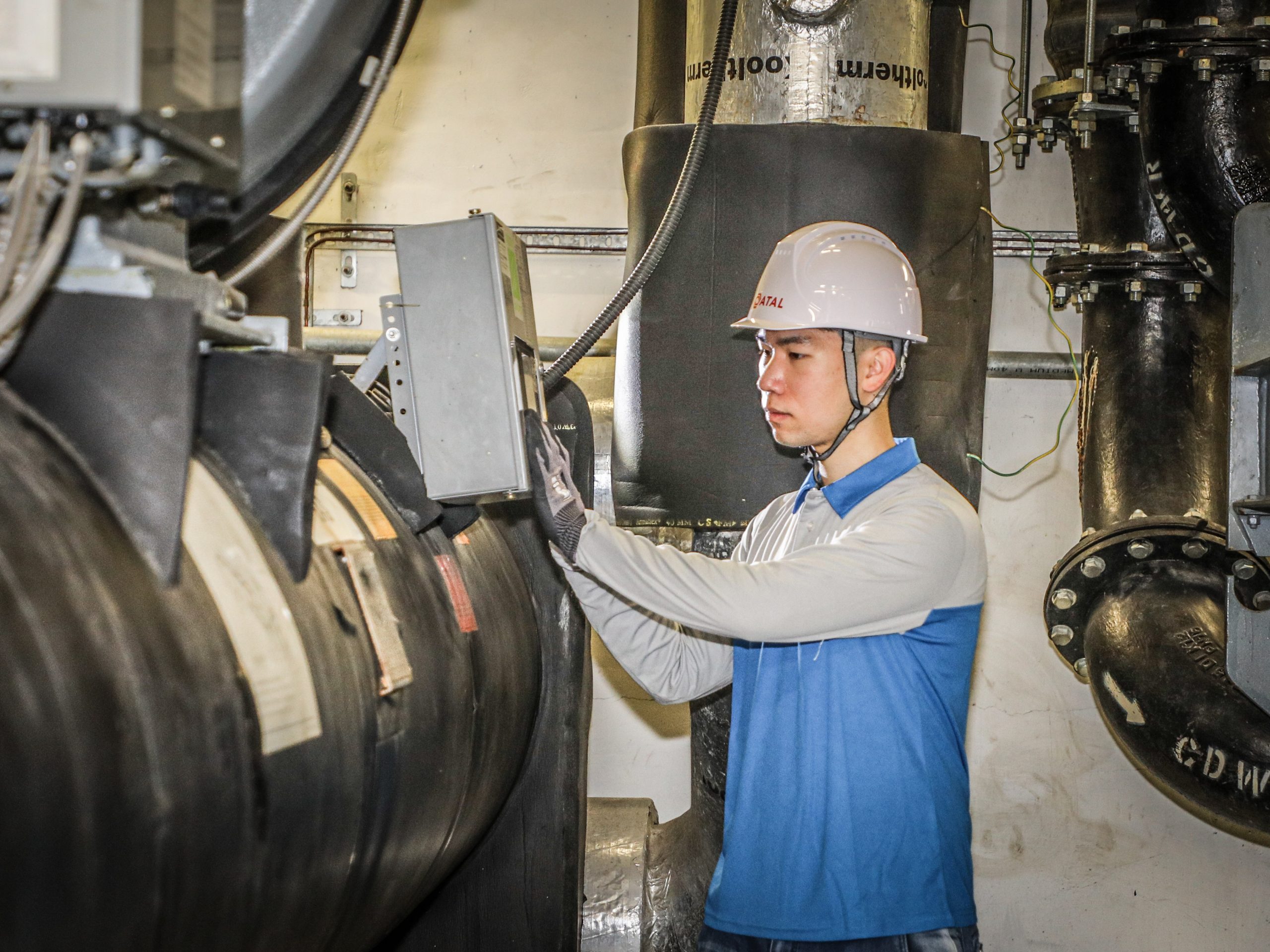 Technician trainee Sam Wong is a life example of how the Group's apprenticeship programme provides the best opportunities for young engineering professionals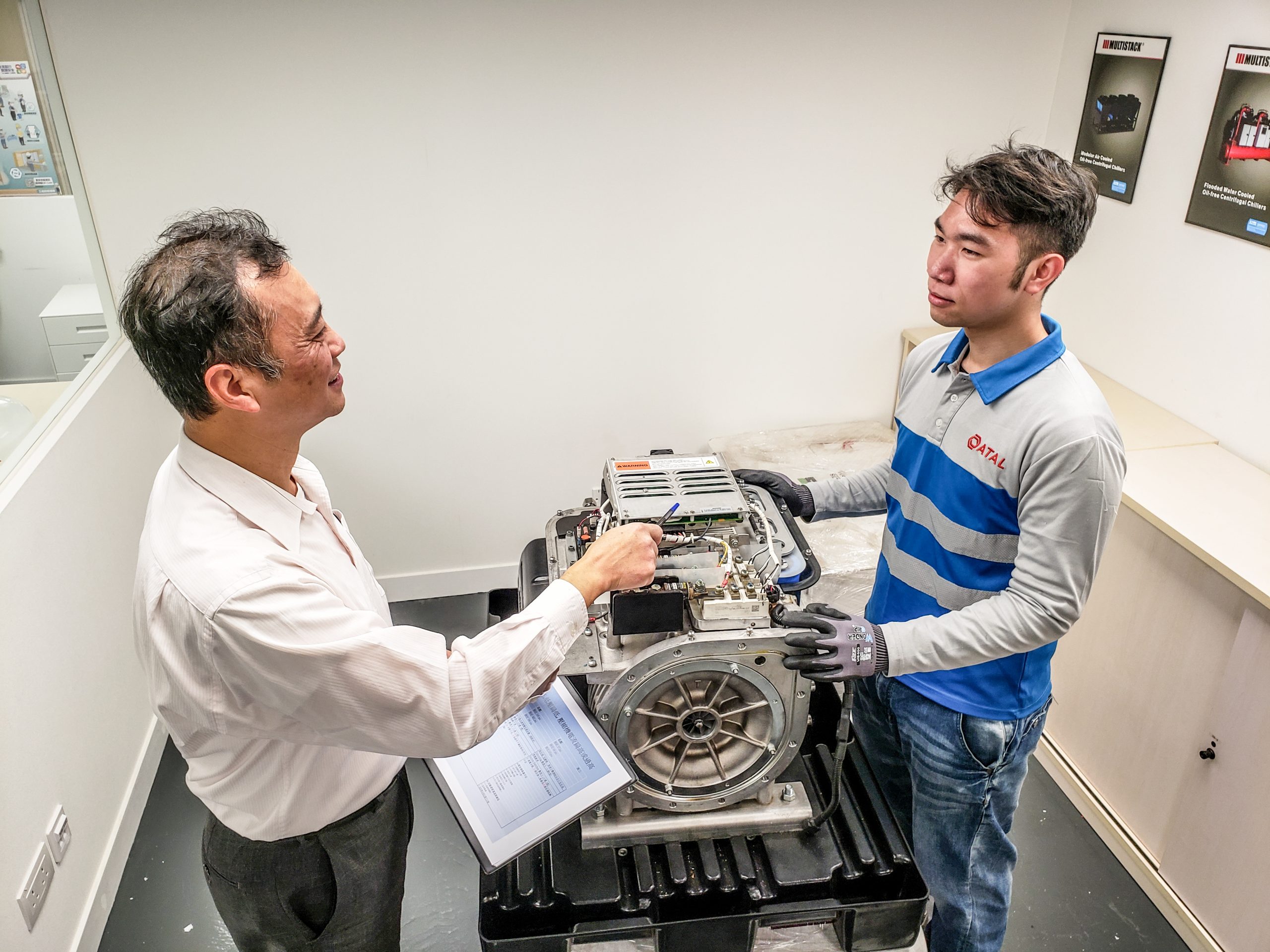 Sam (right) expresses his gratitude to all his mentors, especially Mr HK Mak (left)