Analogue
Issue 32, December 2021
ATAL Wins CIC Outstanding Contractor Award 2021 for Exceptional Performance and Professionalisation
安樂工程榮獲建造業議會傑出承建商大奬2021 傑出表現及推動專業備受嘉許
ATAL Engineering Group has recently won several prestigious awards, one of which is the CIC Outstanding Contractor Award 2021, organised for the first time by the Construction Industry Council (CIC) and acclaimed as the Oscars of Hong Kong's construction industry. The Award aims to recognise local contractors for their exceptional performance and contribution to society and the industry. We are delighted and honoured to have won two awards: the "Grand Award – Specialist Contractor" and the "Professionalisation Award – Specialist Contractor".
Speaking at the award presentation ceremony held on 2 December at the Government House with the Chief Executive being Guest-of-Honour, Group Managing Director Ir Victor Law noted, "As a leading E&M engineering service provider with strong roots in Hong Kong, we have always been committed to innovation and digitalisation, talent development and sustainable development, all in our business operations and in fulfilling our environmental and social responsibilities."
In winning the awards, ATAL demonstrated its achievements over the years in applying innovative technologies such as Building Information Modelling (BIM) and Modular Integrated Construction (MiC) to help digitalise the construction industry. The Group has also successfully integrated Environmental, Social and Governance (ESG) elements into its business operations. In a related development, ATAL became the first E&M engineering group in Hong Kong to be qualified under the CIC Sustainable Finance Certification Scheme to support green finance and sustainability. Meanwhile, through a rich variety of training, talent development, staff engagement and innovation programmes, the Group has helped elevate the level of professionalism in the local construction industry and revive the sector's appeal to attract more young talent.
"Innovation, sustainability, professionalisation and attracting young talent are key to the future of the construction industry," Ir Law said. "The awards have given us the recognition and encouragement to further our work in these priority areas for the industry and society."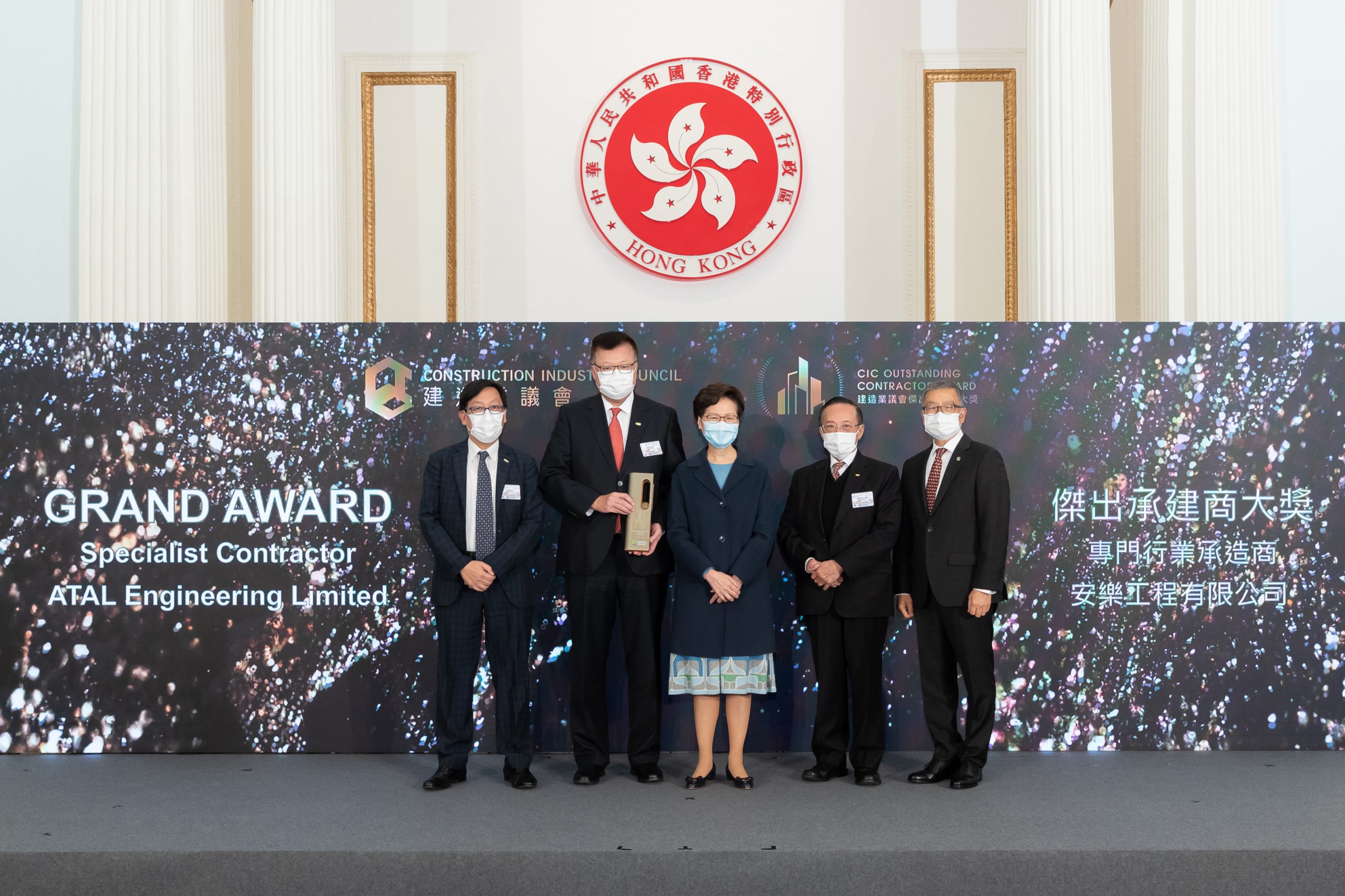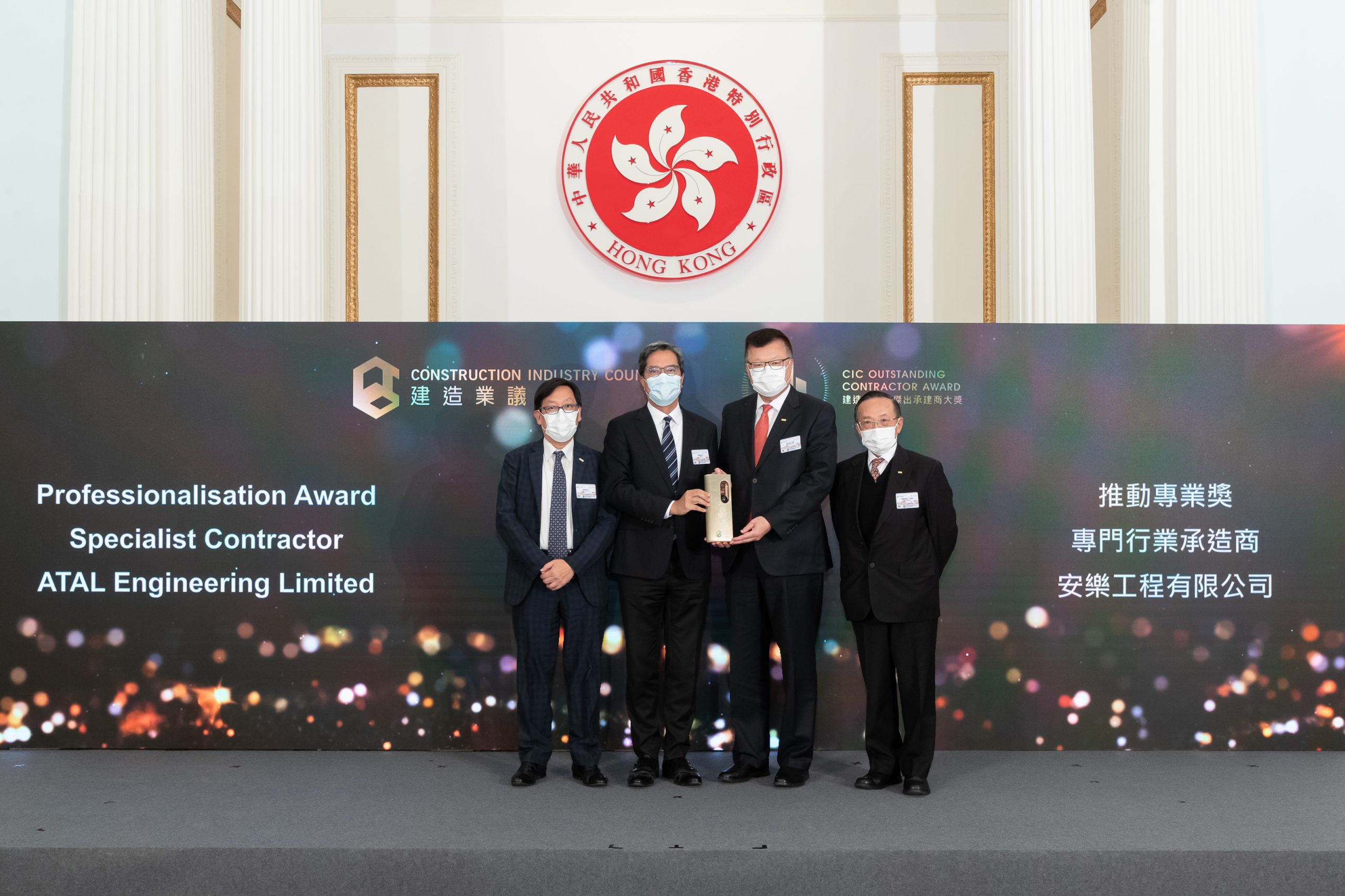 ATAL receives "Grand Award – Specialist Contractor" and "Professionalisation Award – Specialist Contractor" at CIC Outstanding Contractor Award Presentation Ceremony 2021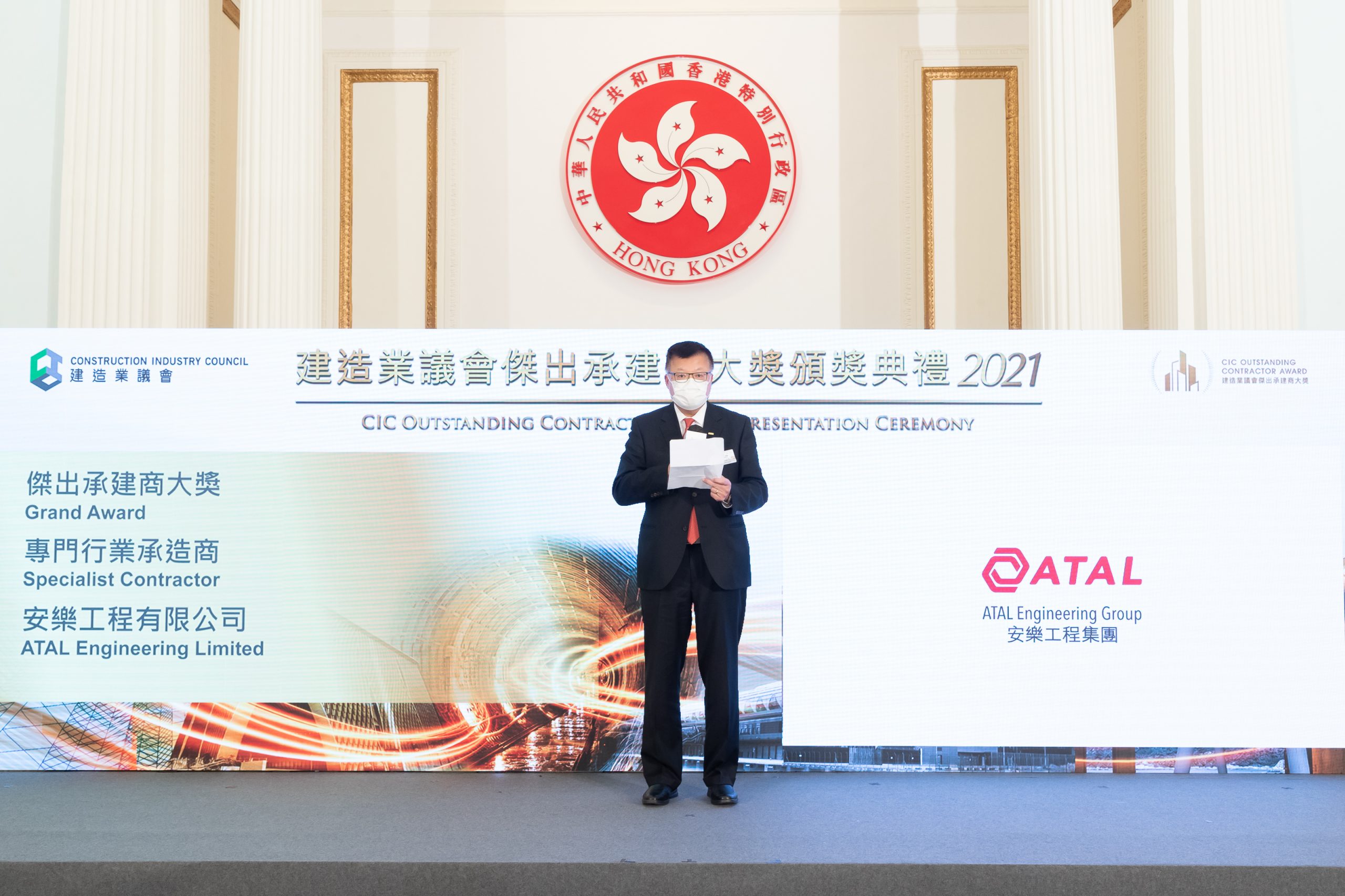 Ir Victor Law, Managing Director of ATAL, shares his award acceptance speech on stage at the award presentation ceremony